We finished the epic 102 hour marathon Spreecast on Monday and it was truly something of legend. Not only did we see members of the Traffic Exchange Live community step up huge but it cemented something I have believed for so many years…The cream will always rise to the top.
Yup, the members of T.E. Live are the best on the internet and I've got examples to prove it…
We live in a world where 'good enough' is celebrated. If someone says they are going to do something, we pat them on the back automatically. Nevermind if they actually do what they said they will, here's a 'Good Job Certificate' for you….Way to go!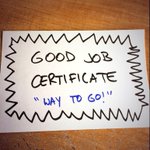 Mediocre programs, half-assed effort, cookie cutter scripts…Yup, this truly has become the Land of Averages!
As my good friend Russell Stockley once said: "The world is too politically correct & everyone wants a certificate for trying…"
Regardless of the boring emails, long drawn out sales copy and emotionless videos, there are gems! There truly are people that should be recognized for standing up and being remarkable.
Take for example during the 102 hour marathon, a newer member of the community named Carl Davies was asking questions about CTP. Instead of waiting for someone from TimTech to answer them, Scott Rohn (a lifetime TE Live community member) took it upon himself to not only connect with Carl in private and offer to help out, but he gifted Carl an upgrade at CTP to help him on his journey. THAT is what I'm talking about!
Not doing what everyone else does. Not waiting for hand outs! Scott saw a HUGE opportunity to be Carl's champion and took it.
Man oh man, when I see things like that I know we are in the right business. Again, in the land of 'good enough' and 'atta boys', it makes it so easy for guys like Scott to stick out from the crowd.
That, is what building a business online is all about. People helping people and not settling for average!
So while the bulk of members out there look for someone to blame for their short comings and getting a pat on the back for saying they are going to try, guys like Scott step up and take a swing. Remarkable huh?